What a great week it was for all teams competing in finals. Here are the results:
Monday night: 27 November 2017
WDTA Ladies Doubles A Reserve 1, EPTC vs EPTC…this is highest section offered, fantastic to have 2 teams in the Grand Final.  Congratulations to Leona Tuttleby, Amanda Topliff, Rachel Taylor, Jenny Morgan, Leanne Marshall.  Great effort by Alison Flynn, Jacinta Holmes, Tracey McLardy, Claudia Orellana and Amanda Stephens.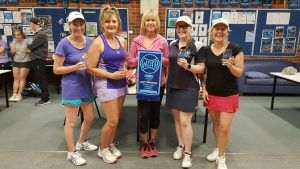 KDNTA Mixed Doubles Section 1 – EPTC were runners-up to Parker Reserve at Batterham Park.  Great effort by Chris Draper, Tim Hubbard, Giuliana Saggin, Jo Mitchell, Cheryl Soligo, Siobhan Owen and Kaylene Burridge.
Tuesday night 28 November 2017
KDNTA Mens Doubles Section 3 – WIN by EPTC in the 7th set (played after a drawn result following the completion of the usual 6 sets) against Montrose at FTG. Congratulations to Michael Siwes, Stuart Naylor, Dean McEwan, Greg Carrick and Jon Arnold.
Wednesday night: 29 November 2017
KDNTA Mixed Doubles Section 2 – WIN by EPTC 5 sets to 1 against Montrose at Montrose. Congratulations to Con Starvropoulos, Les Firth, Donna Thompson, Kirsty Morgan, Katelyn Harper and Di Harper.
Thursday night: 23 November 2017
KDNTA Singles/Doubles Section 1 – WIN by EPTC by 1 game versus Batterham Park (played at FTG). Congratulations to Ryan Draffin, Zac Clifford and Chris Draper.
KDNTA Singles/Doubles Section 6 – WIN by EPTC by 6 games versus Heathmont (played at Heathmont). Congratulations to Jake Kenney, Mohammad Alkinani and Abdullah Mitri.